Desheng is a professional manufactures of Switch Automatic Assembly Machine.Our professional expertise in manufacturing Switch Automatic Assembly Machine has been honed over the past 12+ years.The following is about Switch Automatic Assembly Machine, I hope to help you better understand Switch Automatic Assembly Machine.
1.Product Description of Switch Automatic Assembly Machine
This wall switch automatic assembly machine can assemble the wall switch automatically, it has automatic detection function, automatic alarm stop function,continuity test and debugging function. This machine can automatic counting and you can set the output on touch screen, it is intuitive interface, simple and safety.
We have cooperated with many famous enterprises, such as CHINT, DELIXI, Panasonic, Siemens, Marquardt, Havells, Salzer, and other famous enterprises. Our products and service have won the recognition and trust of more than 500 customers. Desheng is striving to become an expert and outstanding service provider in automation industry.
2.Product Parameter(Specification)of Switch Automatic Assembly Machine
| | |
| --- | --- |
| Productivity: | 20 ~ 30pcs / min |
| Working pressure: | 0.5+-0.1 Mpa |
| Power supply: | AC 220V / 50Hz |
| Feeding mode: | Vibratory bowl feeders |
| Dimensions: | Customized |
| Weight: | Customized |
3.Product Feature and Application of Switch Automatic Assembly Machine
This machine apply to electrical switches production areas to achieve automated assembly of wall switch. It can assemble the copper column, springboard, rocker, spring and button automatically
4.Product Details of Switch Automatic Assembly Machine
(1) The machine is designed in a straight line and assemble products from left to right. Automatic copper column assembly, springboard assembly, rocker assembly, spring assembly and button assembly. The top cover of the switch button is loaded by a special mechanism, which will not cause scratch on the surface.
(2) Switch continuity test and with debugging function.
(3) Automatic detection of finished products. Qualified products and unqualified products output separately.
(4) Automatic detection, start and stop with or without material.
(5) Automatic counting and output setting.
(6) Touch screen, intuitive interface, simple operation and safety.
(7) Automatic alarm stop in case of abnormal, and display abnormal information.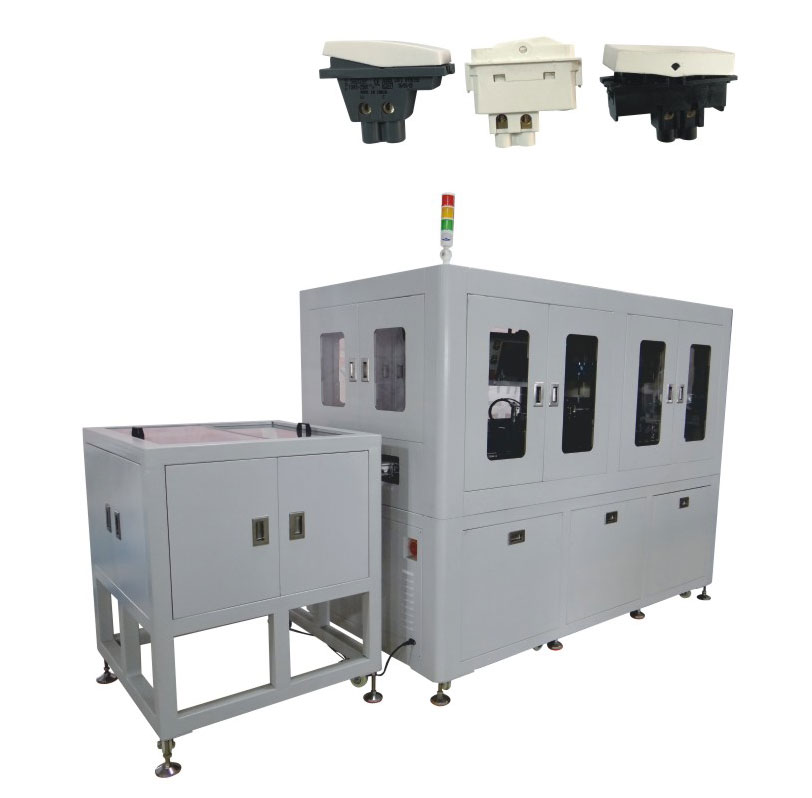 If you want to know more Switch Automatic Assembly Machine, or other related Socket & Plug Automatic Assembly Equipment,Relay Automatic Assembly Equipment,Spool Valve Automatic Assembly Equipment…. and other products Switch Automatic Assembly Machine you can contact us.
Hot Tags: Switch Automatic Assembly Machine, China, Manufacturer, Supplier, Factory, Made in China, Customized, Custom made, Advanced, High quality, Newest, Quality, Price, Quotation